Costume Parade
The term "costume parade" refers to a costume designer and director's first opportunity to see all the costumes on actors in relation to each other at the same time before a production opens. But before these costumes make it to the stage, dozens of hands and myriad talents touch each garment and its accompanying accessories. 
A safe, interactive fun, and enriching outdoor installation, Costume Parade looks at more than a decade of costumes that have graced ASF's stages. It pays tribute to the artistry and craft that go into bringing characters to life at a professional producing theater.
We invite you to tour the 13 panels located on our gorgeous grounds in Blount Cultural Park — and peek inside our lobby windows to see the work of these talented professionals.  
 For Educators
Want to bring Costume Parade into your classroom? Share this conversation between Artistic Director Rick Dildine and Head of Costume Production Jeffrey Todhunter and view all the panels.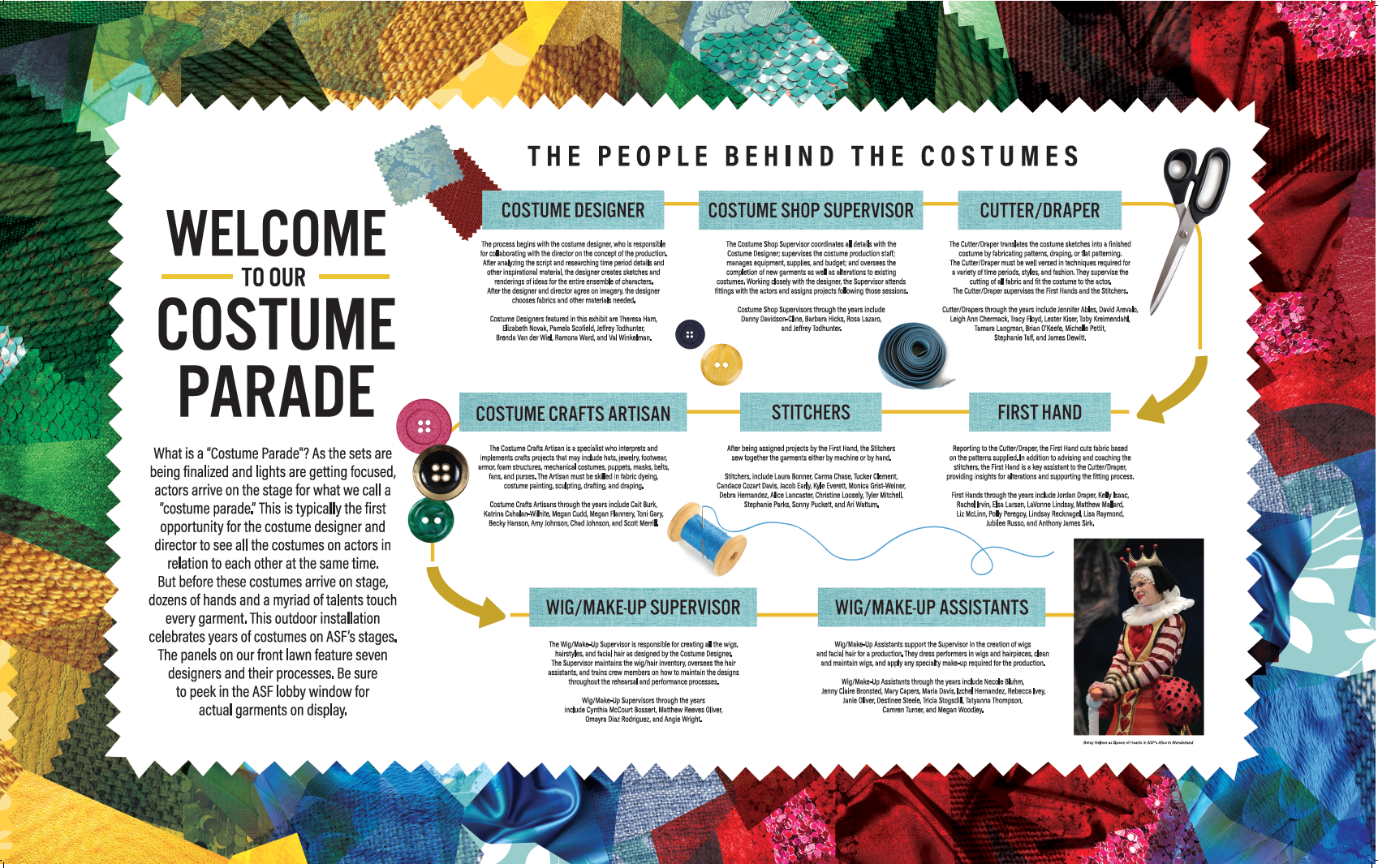 As a professional producing theater, nearly everything you see on our stages is made by hand right here in our shops. The designs we've featured here represent work by incredible designers, artisans and skilled craftspeople who've worked in professional theaters all over the country — even the world. The designs featured in Costume Parade span some dozen years of ASF production history and include costumes from nearly as many periods in history. From the diaphanous fairy costumes of A Midsummer Night's Dream, to the WWII military uniforms and kit of All Is Calm, to the Harlem Renaissance finery of Ain't Misbehavin', these costumes, alone, represent more than a hundred thousand hours of work. 
All pieces curated by ASF Artistic Director Rick Dildine and Director of Costume Production Jeffrey Todhunter.
Costume Parade is generously sponsored by The J.K. Lowder Family Foundation and Alabama State Council on the Arts.
Alabama Shakespeare Festival and its artists, staff, and artisans are busy at work. The pandemic is inspiring us to develop creative programs and events to bring the arts to you in this age of social distancing. Please join us along this journey by making a contribution today. Your tax-deductible gift will help ASF engage, entertain, and inspire students and adults. 
Gifts of any amount are greatly appreciated.