Alabama Shakespeare Festival strives to ensure every patron has an enjoyable, memorable, and inspiring experience, whether you are seeing you first play or you've subscribed for fifteen years. If you are new to Alabama Shakespeare Festival, here are a few helpful tips for your visit.
Before You Arrive
ASF is located in Wynton M. Blount Cultural Park, which has entrances on both Vaughn Road and Woodmere Boulevard. The pastoral park is quite large with several ponds, a short wooden bridge, and walking trails. After entering the park, just follow the brown wooden signs marked "theatre"— we promise they will lead you to us!
The Carolyn Blount Theatre, home of ASF, is a red brick building with the American and British flags atop the roof. We are one of only two buildings in the park; our neighbor is the Montgomery Museum of Fine Arts.
We offer free parking in a large lot adjacent to the theatre.
Planning Your Visit
ASF doesn't have a dress code. We only require that you be comfortable and be yourself. Keep in mind, though, that you may want to bring a jacket because our theatres can be a bit chilly.
We suggest arriving at least 30 minutes prior to the performance so you don't feel rushed getting to your seat.
All performances begin promptly. Latecomers will be seated at the discretion of the Front of House Manager and are not guaranteed access to their selected seats until intermission.
Your Visit
As you walk from the parking lot to the theatre, the Box Office entrance is located behind the fountain. The Box Office is open from 12:00 p.m. until 5:00 p.m. Monday through Saturday, with extended hours on performance nights and Sundays.
If your tickets are being held in the Box Office, you can pick them up at the Will Call station. If you already have your tickets in hand, feel free to walk to the main entrance to enter the Grand Lobby instead.
A push-button accessible entrance is between the Box Office entrance and the main entrance. The door opens onto the terrace under the pergola and is marked with accessible signage, as well as the sidewalk leading to it. Patrons who cannot navigate steps are welcome to be dropped off at the sidewalk leading to this entrance for easier access to the building.
Restrooms are located on the lower level at the base of the stairs near the Octagon Stage.
The elevator is in the Grand Lobby next to the staircase leading downstairs to the Octagon Stage and restrooms.
Patrons may check out assisted listening devices in the Gift shop to use during a performance.
Due to copyright laws, please refrain from taking any photos inside the Festival or Octagon before, during, or after a performance. However, we do encourage you to take photos and videos in the Grand Lobby, Patrons' Lobby, Box Office Lobby, or in the park. If you are sharing on social media, be sure tag us. We love seeing those selfies!
Facebook: @AlabamaShakes
Twitter: @AlabamaShakes
Instagram: @AlabamaShakespeare
Hotels
Looking for a place to stay during your visit? Check out our partner hotels: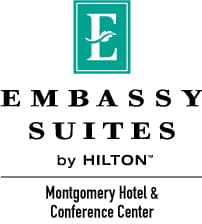 Embassy Suites by Hilton | Hotel & Conference Center
300 Tallapoosa Street | Montgomery, AL 36104 | (334) 269-5055 | Website
Embassy Suites offers impeccable accommodations for everyone. Enjoy a spacious two-room suite perfect for the whole family and high-quality services, including a variety of amenities.


Sonesta ES Suites
1200 Hilmar Court | Montgomery, AL 36117 | (334) 270-3300 | Website
Sonesta ES Suites has managed to combine luxury, affordability, and convenience all into one, for business and leisure travelers alike. Whether you're coming for a quick weekend getaway with a spouse, a family vacation, or by yourself on a week-long business trip, this Montgomery hotel won't disappoint! Click here to reserve a room using the ASF discount.
Remember to ask about the ASF patron discount when you call the local number of any partner hotel.