SOUTHERN WRITERS FESTIVAL
OF NEW PLAYS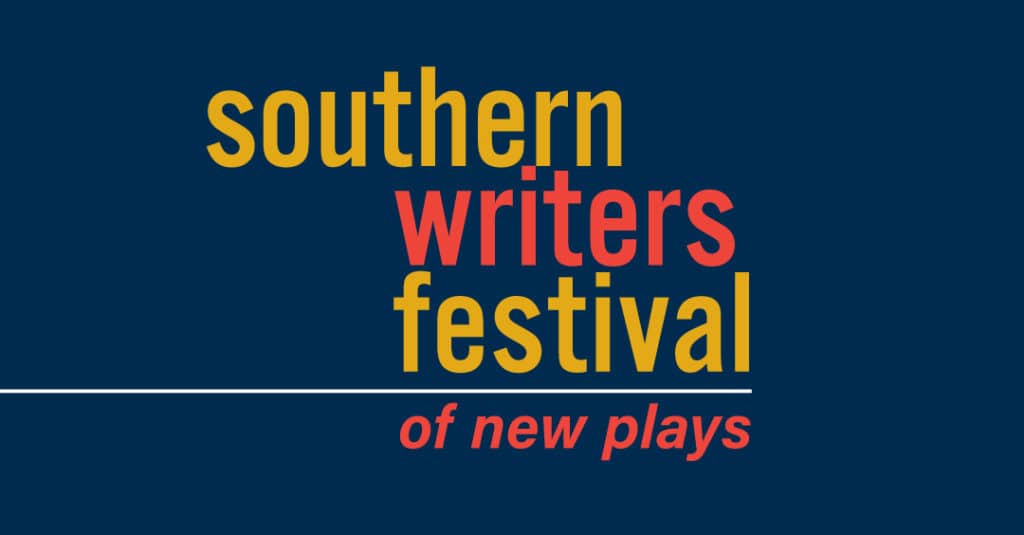 Alabama Shakespeare Festival's Southern Writers Festival
March 17–18, 2023
Explore Southern identity by looking at who we are today during the Southern Writers Festival of New Plays. This lively two-day event features theatrical readings, stimulating conversation, and delicious food.
FRIDAY, MARCH 17
3:00pm – 5:00pm: SOCIAL WORK by Malcolm Tariq
An office in Savannah, Georgia; a woman has come to see her new social worker about a program that will get her out of the projects and into a house of her own. The two women soon learn that they know each other from childhood, each holding different narratives of their friendship. Will one ever let go of the past or will it cost the other her future?
PURCHASE TICKETS
6:00pm — 6:45pm: Pre-show mixer with SWF Playwrights (COMPLIMENTARY, reservation requested)
Get to know the SWF playwrights.
RESERVE MIXER TICKETS
7:00pm – 9:00pm: A THIRD WAY* by Lee Osorio
Nico and Matt are fine- or so they'd say to anyone asking about their marriage. And that's true…but less "fine wine" and more "it was fine, but I probably wouldn't eat there again." The decision to open their marriage starts an effort to save their relationship, but as they queer the boundaries of their marriage it forces them to question what it means to queer your life. Will their bond survive? Should it?
* Content Warning: Recommended for mature audiences ages 18+ (sexual innuendo, strong adult language, and mature themes)
PURCHASE TICKETS
SATURDAY, MARCH 18
10:00am – 12:00pm: BLEEDING HEARTS* by Steve Yockey
Sloane isn't sure why exactly her husband Timothy brought home a probably dangerous drifter with a knife, but she doesn't like it. Of course, it's hard to focus when her wealthy neighbor keeps dropping by to steal anything not nailed down. And then things get violent. Bleeding Hearts is a breakneck, pitch-black farce about the disappearing middle class & how people forget to put themselves in each other's shoes.
* Content warning: recommended for mature audiences (strong adult language, mature themes)
PURCHASE TICKETS
2:00pm – 3:30pm: SALLY: A SOLO PLAY by Sandra Seaton
A one-woman drama set at Monticello in the days before Thomas Jefferson's death on July 4, 1826. The play explores the thoughts and feelings of a mature Sally Hemings as she reflects on her life with Thomas Jefferson. In Jefferson's final days, Sally Hemings is determined to ensure that his long-ago promise to free all their children at the age of 21 will be kept after his death
PURCHASE TICKETS
7:00pm – 8:15pm: Young Southern Writers 10-Minute Play Festival (COMPLIMENTARY, reservation requested)
YSWP began in 2001 as a One-Act play competition that was only open to Alabama high school students. Today, we consider applications from all over the southeast in both high school and college divisions. Every year, brand new special guests come to ASF to develop their new work and mentor our YSWP students. While soaking in all of that, YSWP students also get to work on their own original 10-minute plays that are presented in public readings during the festival.
RESERVE TICKETS
Note: Performance times and order may be subject to change. 
About the 2022-23 SWF Playwrights
MALCOLM TARIQ is a poet and playwright from Savannah, Georgia. He is the author of Heed the Hollow (Graywolf, 2020), winner of the Cave Canem Poetry Prize and the 2020 Georgia Author of the Year Award in Poetry. His plays have been developed by Working Title Playwrights and Brave New World Repertory Theatre. He was a 2016-2017 playwriting apprentice at Horizon Theatre Company and a 2020-2021 resident playwright with Liberation Theatre Company. A graduate of Emory University, Malcolm holds a PhD in English from the University of Michigan. He lives in Brooklyn, New York, where he is the senior manager of editorial projects for Prison and Justice Writing at PEN America.
LEE OSORIO (he/they) is queer, Latinx, Atlanta-based actor, audiobook narrator, and playwright. His plays have been developed through the Alliance Theatre's Reiser Artist Lab (Rounds 4 and 6), The Graham Martin Unexpected Play Festival through Theatrical Outfit and Working Title Playwrights (WTP), WTP's Ethel Woolson Lab, Found Stages, Art on the Beltline, the University of British Columbia, and with funding from Idea Capital Atlanta. He has been a finalist for the Latinx Theater Commons Carnaval (2018) and a semi-finalist for the O'Neill National Play Conference (2022). Learn more about his work at www.LeeOsorio.com.
STEVE YOCKEY is an Atlanta-born, Los Angeles-based writer. His plays Bellwether, Pluto, Afterlife, Octopus, Large Animal Games, Subculture, Cartoon, Very Still & Hard to See, Blackberry Winter, The Thrush & The Woodpecker, The Fisherman's Wife, Wolves, Disassembly, and Niagara Falls are published and licensed by Concord Theatricals. Steve holds an MFA from NYU's Tisch School of the Arts. He was a Co-Executive Producer on the television series "Supernatural" and is the Emmy-nominated creator/showrunner of HBO Max's darkly comedic thriller "The Flight Attendant". He is also the creator/showrunner of HBO Max's "Dead Boy Detectives", adapted from the cult Vertigo/DC comic book.
SANDRA SEATON is a librettist and playwright. Among her fourteen plays, The Bridge Party, Seaton's first play, portrays a group of Black women who fight to maintain their dignity in the face of racism. Seaton's other works include Music History or a Play about Greeks and SNCC in 1963. Dreamland: Tulsa 1921, with Seaton and composer Marques Garrett, was performed at Carnegie Hall and is nominated for the 2023 Pulitzer Prize in Music. In 2023 Seaton's play with music, The Passion of Mary Cardwell Dawson, with mezzo soprano Denyce Graves and music by Carlos Simon, was performed at The Kennedy Center.