•  FAIRY DOORS
free • outdoors
Fairies have taken over the Shakespeare Garden! We've not had an actual fairy sighting yet, but we've discovered tiny fairy doors throughout the garden (and in a couple of other spots around the theater).
Come see for yourself!
To welcome the fairies — and let our friends admire their handiwork — we've planned some springtime fun. Join us in the garden for our Spring Music Series with live music, springtime playlists from some of ASF's friends, and Frios Gourmet Pops*.
Fairy Doors and the Spring Music Series is free and family-friendly. You can safely enjoy as you listen and explore. Special thanks to our generous partners: Clef Works, Frios Montgomery, and Holley Steel.
*Free while supplies last
Spring Music Series — Final day: Saturday, May 1, 2–4 p.m.
Saturday, May 1 — Electric Blue Yonder
Springtime Playlists — Click to play on Spotify
As Spring arrives and Mother Nature unfolds her mysteries, we've asked some of our friends in the community to create some playlists for you to enjoy before, during, and after your visit to Fairy Doors. They've shared songs that make them happy on a sunshiny day. Click each name to get to their list on Spotify.
Happy Hour (The Housemartins) • Looking at the Sun (Matthew Sweet) • Hey Mockingbird (Dillon Fence) • Magic in the Air (Badly Drawn Boy) • Water Your Garden (Luscious Jackson) • Spring Released (Grant-Lee Phillips) • Heavy Metal Drummer (Wilco) • Windows are Rolled Down (Amos Lee) • Library Magic (The Head and the Heart) • Peach Fuzz (Caamp)
Beautiful Day (U2) • Can't Stop the Feeling (Justin Timberlake) • Don't Worry, Be Happy (Bobby McFerrin) • Kodachrome (Paul Simon) • Little Martha (Allman Brothers Band) • Music For a Found Harmonium (Patrick Street) • Pocket Full of Sunshine (Natasha Bedingfield) • Put Your Records On (Corrine Bailey Rae) • She's a Rainbow (The Rolling Stones) • Shiny Happy People (R.E.M.) • Sunday Best (Surfaces) • That's What I Like (Flo Rida, Fitz) • What a Wonderful World (Louis Armstrong)
Bright Side of the Road (Van Morrison) • Every Little Thing She Does Is Magic (The Police) • Mr. Blue Sky (Electric Light Orchestra) • Come Saturday Morning (Liza Minelli) • Walking On Sunshine (Katrina & The Waves) • Holiday (Madonna) • Love Train (The O'Jays) • Ain't No Mountain High Enough (Mavin Gaye, Tammi Terrell) • Aquarius/Let the Sunshine In (The 5th Dimension) • Happy — From "Despicable Me" (Pharrell Williams)
Mr. Blue Sky (Electric Light Orchestra) • Lovely Day (Bill Withers) • Wouldn't It Be Nice (The Beach Boys) • Tiny Dancer (Elton John) • Me and Julio Down By the Schoolyard (Paul Simon) • Dock Of the Bay (Otis Redding) • Here Comes the Sun (The Beatles) • Move On Up (Curtis Mayfield) • You Can Call Me Al (Paul Simon) • Easy (Commodores)
Golden Time Of Day (Maze, Frankie Beverly) • As (Stevie Wonder) • For the Love Of You (The Isley Brothers) • Breezin' (George Benson) • Love's Holiday (Earth, Wind & Fire) • Lovely Day (Bill Withers) • Happy Feelin's (Maze, Frankie Beverly) • Kiss (Prince) • Here Comes the Sun (Nina Simone)
Watermelon Sugar (Harry Styles) • Blinding Lights (The Weekend) • Circles (Post Malone) • Mood (24kGoldn, iann dior) • Walk Me Home (Pink) • Way Less Sad (AJR) • Fallin' — Adrenaline (Why Don't We) • Takeaway (The Chainsmokers, Illennium Stella Lyrics) • Love To Lose (Sandro Cavazza, Georgia Ku) • Dancin' In the Moonlight Jubel, NEIMY)
The Boys of Summer (The Ataris) • Mo Money Mo Problems (The Notorious B.I.G., Mase, Diddy) • No Diggity (Blackstreet, Dr. Dre, Queen Pen) • Cupid Shuffle (Cupid) • Hope (Twista, Faith Evans) • A Change Is Gonna Come (Same Cooke) • I Know There's Gonna Be … Good Times (Jaimie xx, Young Thug, Popcaan) • Despacito (Luis Fonsi, Daddy Yankee) • Welcome Back (Mase) • Soak Up the Sun (Sheryl Crow) • City Of Blinding Lights (U2)
Join us for Fairy Doors and the Spring Music Series in Blount Cultural Park!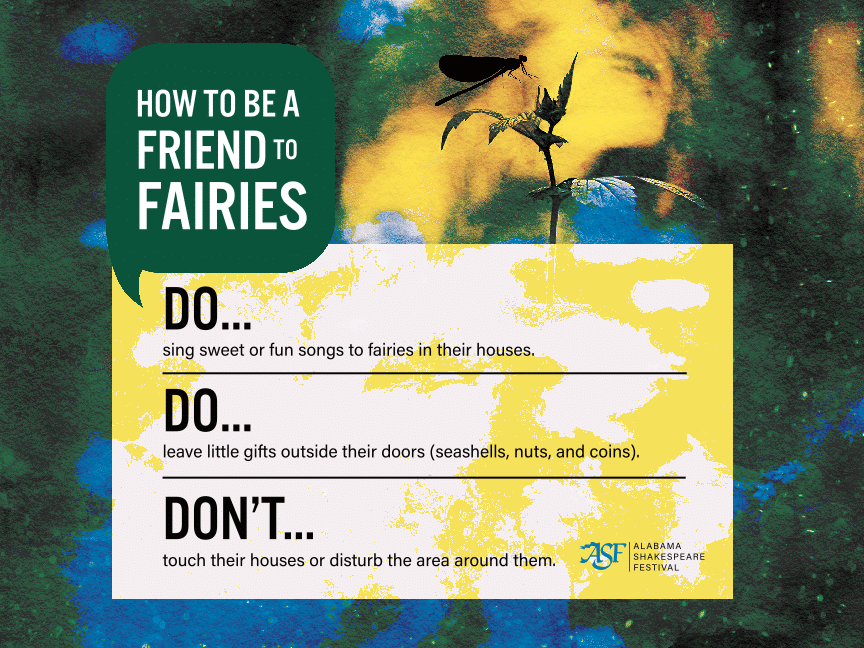 Fairy Doors was designed by Sean Fanning in collaboration with Rick Dildine
Alabama Shakespeare Festival and its artists, staff, and artisans are busy at work. The pandemic is inspiring us to develop creative programs and events to bring the arts to you in this age of social distancing. Please join us along this journey by making a contribution today. Your tax-deductible gift will help ASF engage, entertain, and inspire students and adults. 
Gifts of any amount are greatly appreciated.