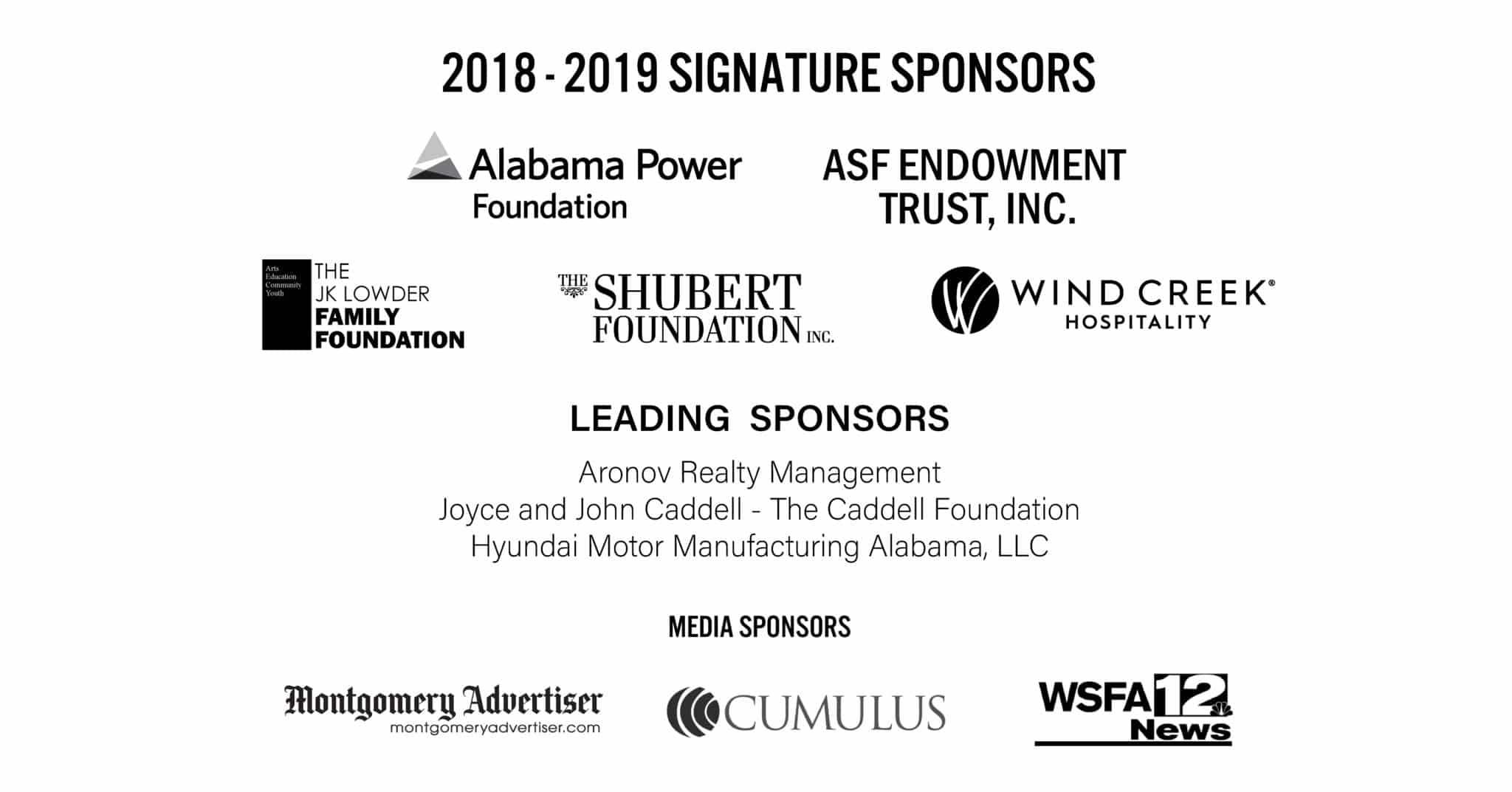 SIGNATURE SPONSORS ($100,000+)
Alabama Power Foundation
Alabama Shakespeare Festival Endowment Trust, Inc.
The J.K. Lowder Family Foundation
The Shubert Foundation
Wind Creek Hospitality
PRESENTING SPONSORS
Alabama State Council on the Arts
Alabama State Department of Education
Alabama Tourism Department
City of Montgomery
Montgomery County
LEADING SPONSORS ($50,000+)
Aronov Realty Management
John and Joyce Caddell–The Caddell Foundation
Hyundai Motor Manufacturing Alabama, LLC
PRINCIPAL SPONSORS ($37,500+)
The Daniel Foundation of Alabama
Barrie and Laura Harmon
Laurie Jean Weil, D.V.M. and Dr. Tommy Wool
SPONSORS ($25,000+)
Alfa Insurance
Anonymous
Beasley, Allen, Crow, Methvin, Portis & Miles, P.C.
Jere and Sara Beasley
Ben May Charitable Trust
Mr. Thomas A. Blount
Blue Cross and Blue Shield of Alabama
Hill Crest Foundation
Jackson Thornton & Co., P.C.
Medical Properties Trust, Inc.
Pickwick Antiques
Poarch Band of Creek Indians
Winston and Gene Reese
Regions Bank
Shakespeare in American Communities: National Endowment for the Arts in partnership with Arts Midwest
Lisa and Vernon Taylor
Patricia Werthan Uhlmann
Vulcan Materials Company Foundation
W. James Samford, Jr. Foundation
Wells Fargo Foundation
CONTRIBUTING SPONSORS ($18,000+)
Marla and John Crews/Construction Materials
Mr. and Mrs. Wyatt R. Haskell
The Hearst Foundations
Hitz Foundation
Mrs. Joan B. Loeb
Merrill Lynch
Southeast Gas
Trustmark
CO-SPONSORS ($12,500+)
Acme Brick Tile & Stone
Susan and Don Alldredge
Jamie and Winston Ashurst
Auburn University at Montgomery
BBVA Compass
Mr. and Mrs. Young J. Boozer, III
Maureen and Arthur Britton
The Buller Family
Cathy Caddell and Charlie Warnke
Capell & Howard, P.C.
Coleman Worldwide Moving
Mrs. Edith Johnston Crook
Mr. and Mrs. C. Lee Ellis
Goodwyn, Mills, & Cawood, Inc.
Dr. and Mrs. Lem Gorden
The Gordy-Mead-Britton Foundation
Ruth Lee Charitable Trust
Cindy and Gaeton Lorino
Mr. and Mrs. Hans Luquire
Amy and Tom Methvin
Mike and Gillian Goodrich Foundation
Montgomery Cardiovascular Associates
Morgan Stanley Wealth Management
National Endowment for the Arts
PowerSouth Energy Cooperative
Robert R. Meyer Foundation
Russell Construction of Alabama, Inc.
SABIC
Kam and Patrick Sidhu
Winifred and Charles Stakely
Dr. and Mrs. Eugene Stanaland
Troy University
Warren Averett, LLC
Jan Weil and Amos Avgar
Lisa and Andy Weil
Welch Hornsby, Inc.
Dr. and Mrs. Barry L. Wilson
Dr. Tommy Wool in honor of Laurie Jean Weil, D.V.M.
PARTNERS ($5,000+)
Alabama Humanities Foundation, a state partner with the National Endowment for the Humanities
Aldridge, Borden & Company, P.C.
Jane and Greg Allen
Altec, Inc.
ARC Realty and New Waters Realty Group
ASE Credit Union
Nan and Ronnie Barganier
Senator Dick Brewbaker
The Community Foundation of South Alabama
General Ed Crowell and Mrs. Ernestine J. Crowell
Jennifer and Glenn Crumpton
Dr. and Mrs. Stephen Davidson
Chuck and Joan DiLaura
Robert Dohmen
Leah and Chris Dubberly
Martha and Tranum Fitzpatrick
Hampton Inn & Suites, EastChase Homewood Suites, East Chase
Commissioner Daniel Harris, Jr.
Judge and Mrs. Truman Hobbs, Jr.
Jeanie Holloway
International Paper Company Foundation
Mrs. H. F. Jim Levy
Susan and Tom Lowder in honor of Emily Lowder Wootten
MAX Credit Union
Jo Ellen and Ben McNeill
Neptune Technology Group, Inc.
Publix Super Markets Charities
Mr. and Mrs. David Reed
River Bank and Trust
David and Sarah Ann Ross
Susan and Bob Runkle
ServisFirst Bank
Southern Poverty Law Center
Spire
Mayor and Mrs. Todd Strange
Troy Bank & Trust Co.
The Waters/New Waters Realty